Maria Falcone, Advocate for UNICRI
Shaping a culture that strongly opposes crime and corruption
On 18 May 2018, during the Side event of UNICRI co-sponsored by the Permanent Mission of Italy to the International Organizations in Vienna at the the 27th Session of the Commission on Crime Prevention and Criminal Justice (CCPCJ), Prof. Maria Falcone, Italian Judge Giovanni Falcone's sister and President of Fondazione Giovanni and Francesca Falcone, has been nominated as an advocate for UNICRI in the fight against organized crime.
Maria Falcone is committed to ensuring that her brother's legacy lives on. She is encouraging young people to follow in her brother's footsteps by reaffirming the culture of lawfulness and the power of communities against the deadly arrogance of organized crime. 26 years ago Giovanni Falcone attended the first meeting of the CCPCJ. One month later, on 23 May 1992, he was killed together with his wife and three policemen by a bomb planted by the mafia in Capaci (Sicily). His assassination pushed the international community and led the General Assembly to endorse Italy's proposal to host the first international conference on transnational organized crime. The outcome of that conference, the Convention against Transnational Organized Crime (Palermo Convention), came into force in December 2003.
The testimony of Maria Falcone is vital to both recall the figure of Judge Giovanni Falcone as well as to encourage the forging of a true culture of legality worldwide. Judge Falcone made unprecedented efforts to strengthen international cooperation, enhance financial investigations and witness protection, and ensure the return of proceeds to the victims of organized crime. He dedicated his life to fighting the mafia without ever giving up, despite the serious risks to which he had been exposed to throughout his entire career. His sacrifice is a substantial push towards a common and shared responsibility in countering organized crime, and towards a more robust implementation of the UN Convention against Transnational Organized Crime.
Prof. Maria Falcone has been commended by UNICRI for her courage and remarkable spirit of service. Her nomination is also a tribute to all victims of organized crime and to the courage of people who fight against the mafia organizations. We, as a global community, and as Maria is doing, have a duty to capitalize on and protect the legacy of victims. Their sacrifice will guide us toward a common and more effective sense of responsibility. Sharing with victims the horrible burden of crime is crucial to forge a stronger culture of legality and to promote improved cooperation and coordination. Organized crime is today's major threat to sustainable development, human rights and security; with criminal groups quickly embracing our globalized systems and managing to use innovation and technology to the detriment of development and security.
Once Giovanni Falcone said, "the Mafia isn't invincible; it's a human fact and like all human facts it has a beginning and an ending. Instead we must realize that it is a phenomenon deadly serious and that can be won not claiming heroism of unarmed citizens, but engaging in this battle all the best forces of the institutions." This nomination will allow us to work with Maria to continue shaping a culture that strongly opposes crime and corruption. We, as communities, must recognize the importance of a cultural revolution as the most powerful tool against organized crime.
With Maria, we pay tribute to Judge Falcone and to all those who sacrificed their lives on the front lines for us to be free from fear. "He who is silent and bows his head dies every time he does so. He who speaks aloud and walks with his head held high dies only once." The words of Giovanni Falcone are echoed in the words of the Italian students who marched against the Mafia with the slogan "Now let's kill us all". This is the testimony of a young generation that will not compromise with organized crime. Thank you Maria for helping to shape the vision of young people, this is the most powerful weapon against organized crime and violence.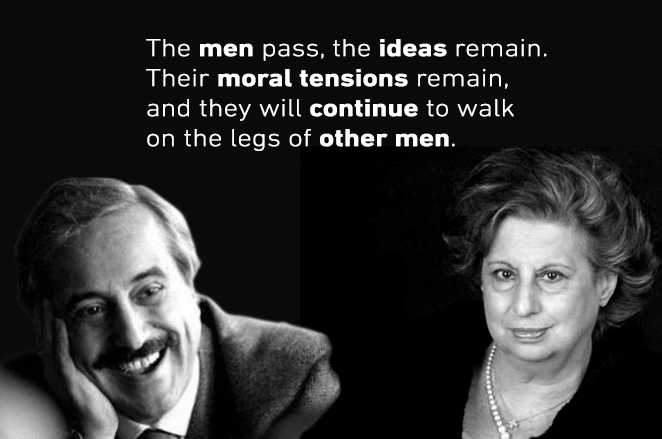 About the Foundation Giovanni and Francesca Falcone
The Foundation, led by Maria Falcone, was established in Palermo on 10 December 1992 with the aim of promoting the culture of lawfulness among young people. The foundation is committed to realizing a true lifelong education through social and cultural initiatives. The purpose of the Foundation is also to promote the enhancement of investigative and judicial capacity to prevent and fight organized crime. At an international level it promotes cooperation between European and international judicial systems for a more effective action against organized crime. The Foundation is bringing together many different actors to eradicate the Mafia phenomenon. In 1996 the foundation, as a non-governmental organization, was granted the consultative status with the United Nations Economic and Social Council (ECOSOC).