Turin, 3 April 2008. The Center for legal studies of the Ministry of Justice of Spain (CEJ) and the United Nations Interregional Crime and Justice Research Institute, (UNICRI), are holding a Regional Seminar to promote international criminal law and disseminate information on international and national responses to genocide, crimes against humanity and war crimes.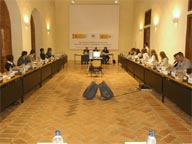 The Seminar, made possible by the support of the Spanish Agency for International Cooperation and Development (AECID), will take place at the Spanish Technical Cooperation Center in Cartagena, Colombia from the 14th - 18th April. The meeting will be attended by distinguished judges, prosecutors and experts from throughout Latin America. Guests will include, among others, Mr. Mario German Iguaran Arana, Attorney General of Colombia, Mr. Baltasar Garzòn, Spanish National Judge and Mr. Jesus Alonso Santos, former Deputy-Chief Prosecutor of the Spanish 'Fiscalia de Audiencia Nacional'. UNICRI Director Sandro Calvani will close the seminar. The event will also envisage the participation of other relevant UNICRI officials and high level representatives of the International Criminal Court.
International criminal law and both international and national responses are crucial elements in the pursuit of international justice. International and national responses aim to prevent the deepening of crises and to bring to accountability those who are responsible for some of the most abhorrent and inhumane acts. It is also imperative that the international community brings justice to the victims of wartime atrocities.
The Seminar will be an occasion to gather information on States' efforts to implement international criminal law, existing best practices and national jurisprudence involving international crimes. It will also seek to raise awareness about international criminal law and implementation efforts in the various Latin American countries.
According to Mr. Sandro Calvani, Director of UNICRI, 'This Seminar will highlight the importance of upholding international criminal law. The international community must work together with a sense of urgency to bring justice and a voice to victims of war crimes and crimes against humanity. This sense of urgency will help bring us a step closer to justice and an end to impunity for some of the world's worst criminals.'