Bari, 19 June 2008.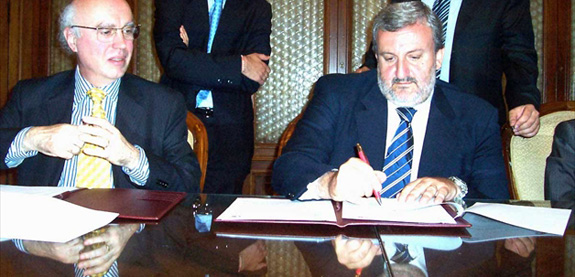 Thursday 19th June at 11.30 am, at the sala Consiliare "E. Dalfino" in Palazzo di Città, Bari, the Bari municipality and the United Nations Interregional Crime and Justice Research Institute, UNICRI, signed an agreement aimed at the creation of a stable partnership to intervene in matters of urban security and the prevention of criminality.
The protocol, signed by the Mayor, Michel Emiliano, and the Director of UNICRI, Sandro Calvani, was promoted by the Agency for the pro-active fight against criminal organisations, and signifies a moment of great prestige for the city.
The agreement envisages the establishment of a stable and continuous partnership between the Bari municipality and UNICRI. This is aimed at the promotion of study and research, as well as supporting scientific intervention at the planning stage in matters of urban security and the prevention of criminality.
The collaboration will see the elaboration of research into victimisation of individuals along with the perception of security by the residents of the Bari municipality
Dr Sandro Calvani, the Director of UNICRI, has expressed his full satisfaction with the merits of the collaboration.
The surveys, which will focus on the victims of crimes against the person and property, will, in fact, allow us to reach the first level of analysis of the problem of security in Bari. 'According to previous studies conducted by UNICRI, in Europe, in less than half of crimes committed are reported immediately. The possibility of collecting data that ordinarily escape official statistics represents an internationally recognised best practice in the area of localised intervention strategies which takes place in cooperation with local institutions,' explains the Director of UNICRI.