Turin, 22 October 2008. For the celebration of UN Day 2008, the gates of the UN campus in Turin were opened to the public. The Directors of the three organizations based on the campus, François Eyraud, Sandro Calvani and Carlos Lopes invited the citizens of Turin to visit the United Nations.
The event was a great success showing the interest and enthusiasm of the local population in the activities of the United Nations.
Throughout the day members of the public roamed freely around the campus, taking in various presentations and finding out all about the important international activities being carried out here in their very own city.
Footballers Pavel Nedved and Alessandro Rosina of Juventus and Torino FC respectively attended the event as special guests. In front of the largest UN flag in the world, created by the people of Turin during last year's UN day, the football stars answered various questions and mingled with the people of their native city.
The initiative was supported by Turin City Council, and the province and the region of Piedmont. It offered the locals a special Sunday to celebrate International UN day, which took place on the 24th of October, and during which the Mole Antonelliana was illuminated in blue with the UN insignia. Activitiesd included a photo exhibition and the presentation of the activities of each of the UN entities based in Turin.
UNICRI's headquarters was also open to visitors, who were received by enthusiastic staff giving out informative material produced by the Insitute as well as presentations on the activities carried out.
Also involved were the Italian Society for International Organizations, the UNESCO centre the Turin branches of UNICEF and UNIFEM.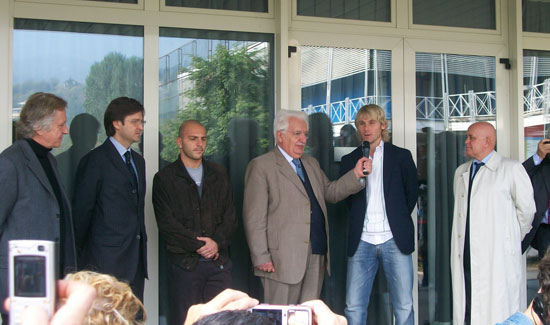 For Italian TV coverage see:
http://it.youtube.com/itciloTV