Security Governance/Counter-Terrorism Laboratory has launched new Host an idea strategy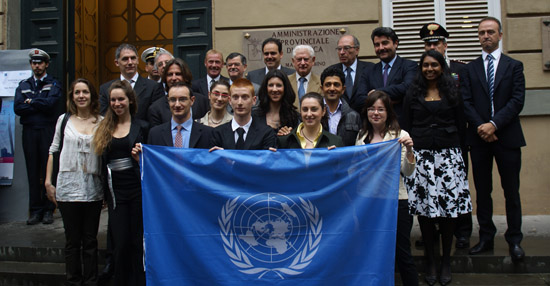 Lucca, April 2009. UNICRI's Security Governance/Counter-Terrorism Laboratory has opened its new Dialogue and Innovation Office in Lucca. The Laboratory, which is mainly involved in applied research, will bring to Lucca five important programmes in the field of dialogue and innovation of communication, applying, for the first time, its Host an idea strategy.

In accordance with the Secretary-General's new approach, UNICRI is getting closer to the civil society and to the private sector. It is both crucial and critical to deliver security and maintain the safety of citizens in a unified manner. The Palazzo Ducale/ will host the institutional office, while the operational offices will be located in Il Ciocco - Hotel & Resort, one of UNICRI's private partners, already known to international organizations which have been using its facilities for over a decade.

According to Alfredo Mantica, Italian Foreign Affairs Under-Secretary, who attended the ceremony, the "United Nations have chosen to set in Lucca a new laboratory for innovation: an opportunity not to be missed for the city, Tuscany and Italy as well". Stefano Baccelli, President of the Province of Lucca, and Francesco Cappè, Head of UNICRI's Lab also attended the presentation and the press conference of the opening ceremony.

Robert C. Orr, UN Assistant Secretary General for Policy Planning, and Sandro Calvani, UNICRI Director, sent their greetings via video messages. "We have to build a global movement, - said Mr. Orr - a global campaign against terrorism and this can only work in fundamental partnership with civil society".
"It is within the new Secretary-General Ban Ki-moon's strategy, that UNICRI wants to play a critical role" - Mr. Sandro Calvani observed in his message – "The Host an idea approach will bring us to dialogue with local communities, and the private sector. All this, will be made possible thanks to the joint effort of Under-Secretary Mantica, who offered his precious backing to the Institute's action, the Province of Lucca and his President Stefano Baccelli, and the local communities".

The activity of the Dialogue and Innovation Office in Lucca will be mainly focused on two areas: the first will be oriented to intercultural dialogue; the second action will be undertaken with the private sector to conceive new forms of innovation.