Turin, August 2009.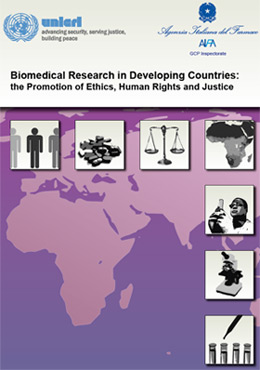 In the era of globalization, biomedical research involving human subjects poses global challenges at many levels. The growing number of clinical trials that are being conducted with human participants in poor-resource settings, in Latin America, Africa and the Far East, creates a moral duty to investigate this phenomenon.
In recent years, UNICRI has started working in the area of protection of human rights and well-being of participants in clinical research of drugs. In collaboration with the Italian Medicines Agency, UNICRI has carried out a survey on the main training and educational activities at an international level, as well as an analysis of the ethical and legal issues that can arise in the various stages of a clinical trial process, from the assessment of the protocols to the various phases of the trials themselves.
This book offers an overview of the international and national guidelines, declarations and resolutions that enshrine the basic ethical and legal obligations for the protection of human participants of biomedical research as well as an overview of several training initiatives for people involved in research at different level.
It includes a focus on Africa, with a survey of the current national legislations and guidelines regarding the protection of human participants in biomedical research and status of ethical review capacity in the Region. The analysis has aimed to assess the situation in the field and to identify those countries where there is a more urgent need for specific training on ethical review, GCP inspections, legal and law enforcement issues.
A proper legislative framework, its right application and an adequate ethics training for people involved in research with human beings, are the key factors which ensure the protection and the promotion of Human Rights in every research setting, in every country and in every time.
Biomedical Research in Developing Countries