Bolivia, Colombia, Ecuador and Peru
in the Fight against Corruption and Related Serious Crimes
Advanced Training Courses for Judges and Public Prosecutors
UNICRI has implemented the project Bolivia, Colombia, Ecuador and Peru in the Fight Against Corruption and Related Serious Crimes. The project envisaged training courses for judges and public prosecutors on the international instruments against corruption.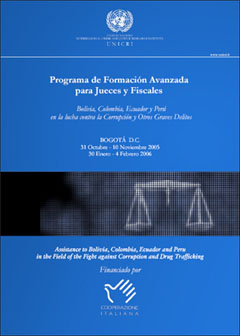 The main objectives of the project were:
to deepen the knowledge of international and regional legal instruments against corruption, in particular the United Nations Conventions against Corruption (UNCAC), the United Nations Conventions against Transnational Organized Crime (UNTOC) and the Inter-American Convention against Corruption (IACAC);
to deepen mutual knowledge of national legislation on corruption;
to promote the identification of common policies against corruption and related serious crimes;
to identify new solutions to handle cases and reveal current cooperation opportunities.