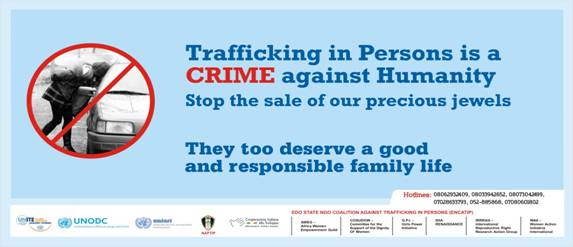 In coordination with UNODC Nigeria and NAPTIP, the Edo State NGO Coalition Against Trafficking in Persons (ENCATIP), launched in September 2009 the three state-wide awareness-raising campaigns in Edo State of Nigeria with special focus on minors in rural areas. The campaigns were carried out from October 2009 to February 2010. The awareness-raising campaigns targeted at school outreach and peer education were conducted until May 2010 in order to match with the school year curriculum.

ENCATIP promoted strategic partnerships to foster community mobilization and developed information tools and messages to key audiences in Edo State targeted at different groups like minors, in and out of school, women, men, opinion leaders, government officials etc. Among the main activities were: enlightening talks with youth, women and men, advocacy with traditional rules and religious leaders as well as meetings, seminars and workshops on critical issues regarding trafficking. Special emphasis was placed on working with schools and training colleges as well as Parents-Teachers Associations and other groups at the local level. The aim was to explore new strategic options allowing the incorporation of trafficking as an issue which is dealt with as part of other development efforts and to keep the fight against trafficking high on the agenda of youth-related grass-root institutions.

The activities included:
School Outreach Peer Education Visitation
Three schools from each of the seven local government areas (a total of 22 schools) were visited and over 1,800 boys and girls impacted. During the visits, counseling services, trafficking education and personal skills building classes were carried out. Each selected school was visited seven times. A club was set up in each of the schools linked up to existing NGOs in the localities, who would continue the work after the end of the project.
Campaign visits to Markets
The visits to the markets and the grassroots campaign resulted in the enlightenment of parents and all adults in the vicinity of the markets, further enabling the minors to resist human trafficking and prevent their parents from being deceived into sending their wards abroad. During the visits, talks were given on the issue of human trafficking and materials on the subject will be distributed extensively. A total number of eleven (11) Local Government areas were visited during the campaigns.
Radio Jingles
Radio jingles directed at minors were produced and broadcasted in the Edo language and Pidgin English on the Edo State broadcasting service (EBS-Edo Broadcasting Service), one radio station that covers the entire state weekly. NAPTIP Edo Zonal Office hotlines were made available.